Big Ambitions in Botswana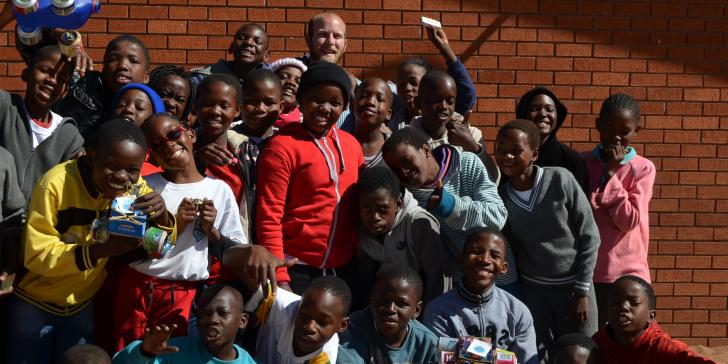 Last year Nacel Open Door and Nacel International School System began a partnership with a school in Oodi, Botswana called Dream Academy. The goal of the school is to inspire under-served youth and develop them into the future leaders of Botswana and the world through a mix of academics and athletics (mainly soccer), and to uplift a neglected area of the globe. Read more about our partnership in a previous issue of our newsletter.
From this partnership, we decided to give one lucky student the opportunity to study at St. Paul American School in Gezhi, China, for a semester (which has now been extended for a full year!) Gofaone is an amazing student. Read more about her journey here.
But we weren't done just yet.
In our second year backing the ambitious project, we continue to receive more great news each day from Oodi. The CEO and Co-Founder of Dream Academy, Fikile Khali, said in an email that the response to the work we've sponsored has been unbelievable.
"We have honestly underestimated the power and energy of what we are doing, and it has overwhelmed me with emotions to have people tell us how thankful they are of our help," Khali said.
Khali recently met with officials at the United States Embassy, and next week the U.S. Ambassador to Botswana Earl Miller will visit the school, as there has been interest from the Embassy in partnering with Dream Academy and helping with funding. Mr. Miller will be checking out the STEM camp run by NOD, which was a huge success in its inaugural year in 2016.
Another recent development was a partnership with a local commercial farmer who produces vegetables and fruits. The farmer agreed to donate a year's supply of fresh produce, available for staff and students to collect each day. The contact person at the farm is none other than Gofaone's mother!
This is just a short-term solution to the challenges that face the school.
One big project on the horizon, and an essential step towards success of Dream Academy, is installing a well at the school. Fresh, potable water provides the first step in securing the health of students. A well provides not only clean drinking water to the students, it may also provide opportunities to grow their own fruits and vegetables on site.
We are very excited with all of the new developments in Oodi. We hope you are, too. If you'd like to learn more or make a donation, visit www.dreamacademysoccer.org.