Congratulations Nacel Open Door Star, Arthur Wellenstein!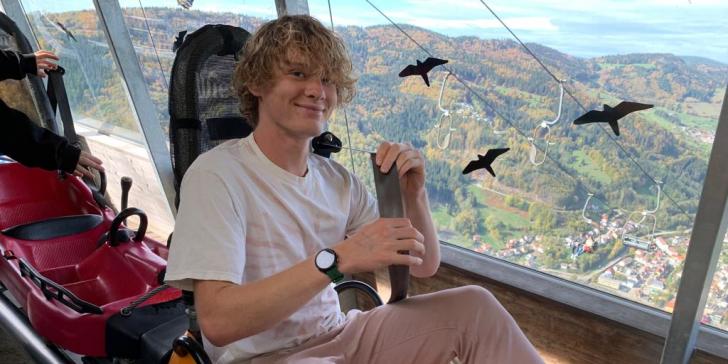 NOD is excited to introduce one of our amazing Congress-Bundestag Youth Exchange (CBYX) students and a Nacel Open Door Star, Arthur Wellenstein, of Wauwatosa, Wisconsin! Arthur was nominated for CBYX Participant of the Month by our CBYX partner in Germany, Open Door International (ODI), and he was selected by the Bundestag and ECA (U.S. Department of State's Bureau of Educational and Cultural Affairs) for December. He is one of the 25 CBYX Vocational scholarship winners for 2022-23, and he is currently living in Hamburg, Germany.
The CBYX Vocational Scholarship provides an opportunity for American high school graduating seniors to spend the year after graduation in Germany, learning German, going to German high school, and working in German internships, all while living with a host family.  U.S. students can apply by January 10, 2023, for the 2023-24 CBYX Vocational program.
Check out what Arthur's ODI area rep, Duncan shared about Arthur in his nomination:
Apart from my own personal impression of Arthur as an exceptional candidate of the CBYX program with his friendly, communicative personality, I have gathered very positive feedback from his host mother Frau Puke, who said to me upon my first home visit after his arrival that her family unanimously voted to adopt Arthur as a member of their family. She took some considerable time and effort to summarize her impressions:
"I couldn't think of anyone better for 'student of the month'. We have already had many exchange students in our family, including several from the USA. So far, we have only been told what "is different and above all better at home". Arthur is the complete opposite type of person. He is incredibly interested and open-minded in all matters. He does not take a critical or skeptical view of new things, but is curious and is expressly interested in everything he was not previously familiar with. That alone makes it incredibly easy to take him into our home and like him. It is very easy to compare and discuss social and political matters from home and in Germany with him, since he seems to be open to the whole world without prejudice. He is definitely an ambassador for his home country, as his manner alone makes it very easy to listen to him and to be interested in what he has to say about himself and overseas!
He also became an integral member within his school classes in a very short time. His classmates immediately campaigned for him to be allowed to take part in an upcoming class trip. For organizational reasons, however, this will only be possible if another classmate is absent due to illness, which both he and his classmates very much regret. He was accepted warmheartedly into the class community and immediately made friends, including because of the help he had already provided to classmates in science subjects. After taking our 18-year-old daughter to a party once, Arthur already made extensive contacts and is thus able to make his own appointments and cultivate friendships, which he obviously does not find difficult.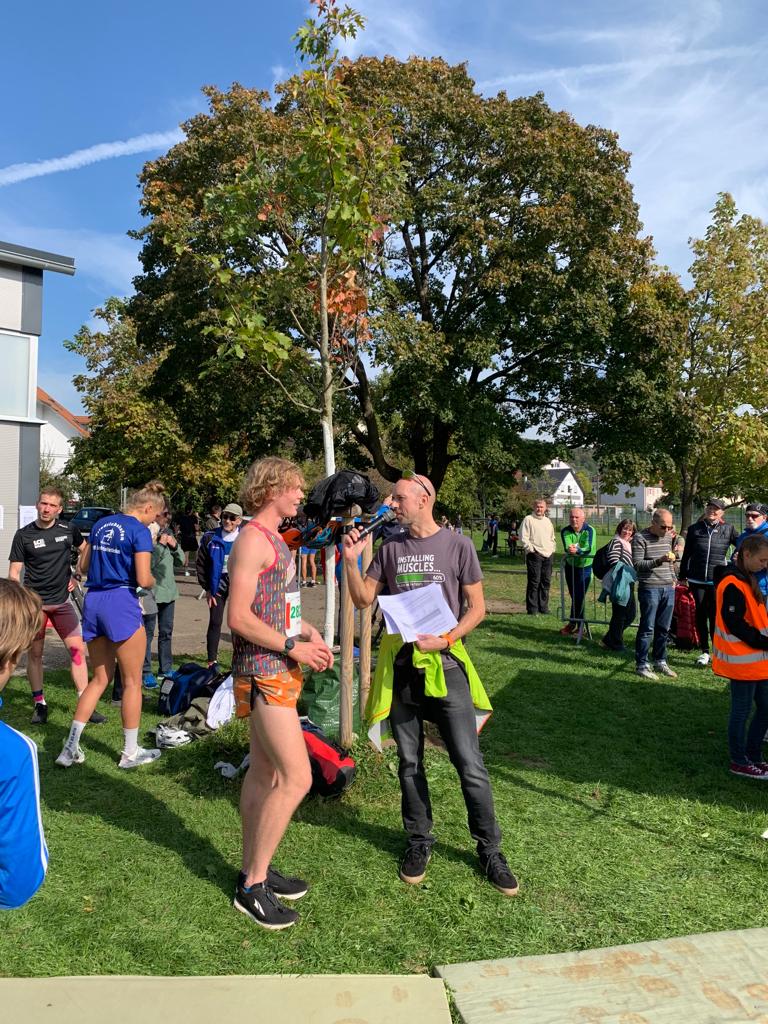 He made his first contacts early on with the TuS Lörrach-Stetten running group, among others, after he (and only shortly after his arrival) won the half marathon uncontested at the 3rd Südwestzipfel run in Grenzach-Wyhlen. Through his commitment and his empathic nature, he easily managed to be invited by runners of all ages to training runs and other competitions. The next competition will be the 39th Basel city run, in which the newly won friends will also take part.
Arthur has been with us for just over a month now and we can't imagine that one day when he will leave. He is an enrichment for our family in every respect and, based on our previous experiences, has also 'straightened' our worldview with regard to the United States. He is fully integrated, he makes his contribution to the household and family as a matter of course, and is the kind of brother one could only wish for our daughters. Even before Arthur arrived and we just texted, I noticed that Arthur used the word "wunderbar" a lot. At some point I wrote to him that our children hardly use this word in their youthful language and that we hardly ever use it in our colloquial language. In the meantime, I have discovered the word for myself: Arthur is truly wonderful!! It's hard to imagine a better ambassador for his country and culture."
Duncan also summarized the positive feedback he received from his high school colleagues as follows: Arthur has become a fully integrated member of his fellow students, and contributes as much as he can to all the subjects he takes. The staff find him a very pleasant, polite and friendly person and wish that some of their students would follow his exemplary participation.
A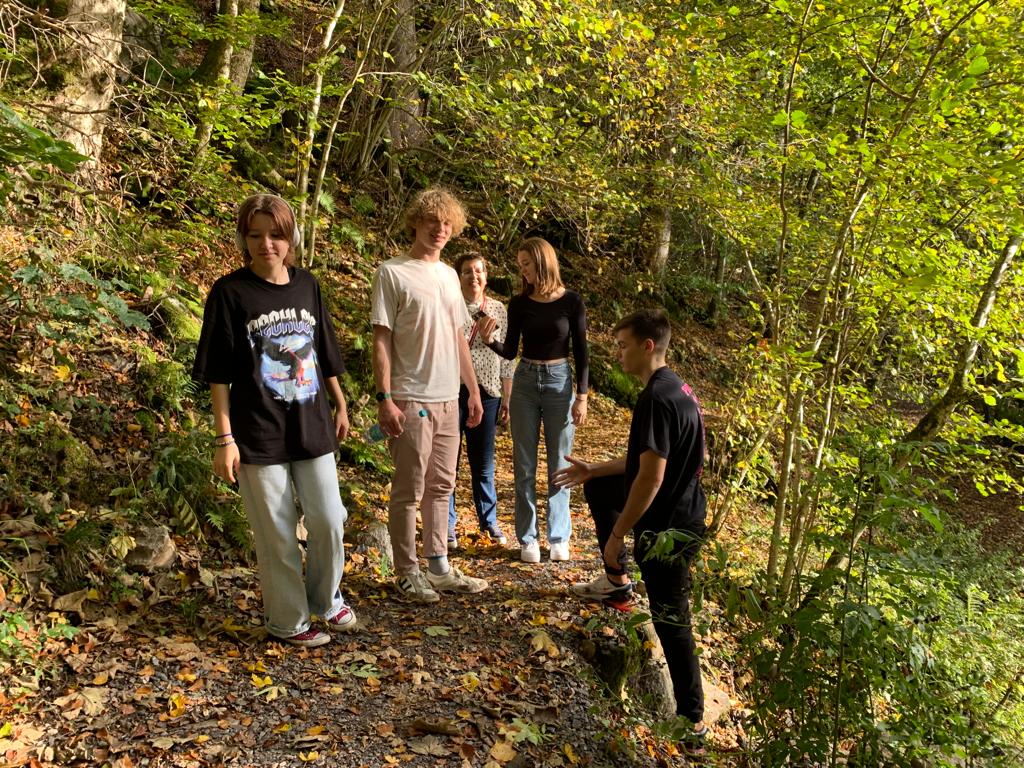 rthur has chosen his vocational internships in the field of education. The first will be at the elementary school Bärenfelschule. He apparently made a great impression at his interview, because the school principal is already convinced that "all hearts will fly to him." His second internship will allow him to combine one of his hobbies (climbing) in an educational setting. He has been accepted on the basis of his sports' qualifications and empathic nature to a forest climbing adventure centre: Erlebniskletterwald Lörrach GbR, in Lörrach. In addition to the daily business with mainly school classes during the week and families, children's birthday parties and all kinds of different guests, the operator has promised to give Arthur a deep insight into experiential education and construction practices "because there is always something to repair or build something new."
Arthur shared these thoughts on his experiences so far in Germany:
This exchange thus far has made me much more confident in my independence. The best example I can think of is during runs in new places I feel far more sure of my ability to find my way home. This assuredness branches out from just running to the simple feeling of my self-confidence to navigate myself through life.

Thus far I have been most surprised by how countries here in Europe are facing very similar social problems as America. Walking through Freiburg and seeing an anti-mask protest made this most apparent to me.

From early on I felt very comfortable with my host family. They create a very positive, inviting atmosphere that made me feel like a member of the family quickly. A particular time when I felt at home was my recent haircut. My host mom and I both had appointments at similar times. I assumed we would drive together from home. That, apparently, wasn't the norm in the family with haircuts. My host-mom hadn't thought that I wouldn't know that, which I see as a sign of how close we already are. Missing the haircut was a worthwhile consequence to the unconscious kind sentiment my host-mom sent me.

The largest impact that my exchange experience has had on my view of other cultures is a better understanding of how similar we all are, but how important the differences between us remain. The differences are what foster community and create strong bonds. Without them the world would be gloomily monochrome. My exchange thus far has given me a further appreciation of these differences as they give me new ways to look at life.

This exchange experience has allowed me to get truly engrained in a foreign community that a simple vacation can't achieve. A simple vacation allows you to see the famous sights, eat the local food, and notice the surface-level cultural differences. From this you have a handful of fun experiences, and hopefully an expanded palate. An exchange year allows you to go so much further. It allows you to find the deeper differences that I'm just beginning to discover, like decision-making, values, and group norms. These differences have so much more value when you adopt them into your life, and are only able to be discovered through the type of integration in a foreign culture that an exchange program offers.
Thank you, Arthur, for being a NOD star and standout U.S. Ambassador!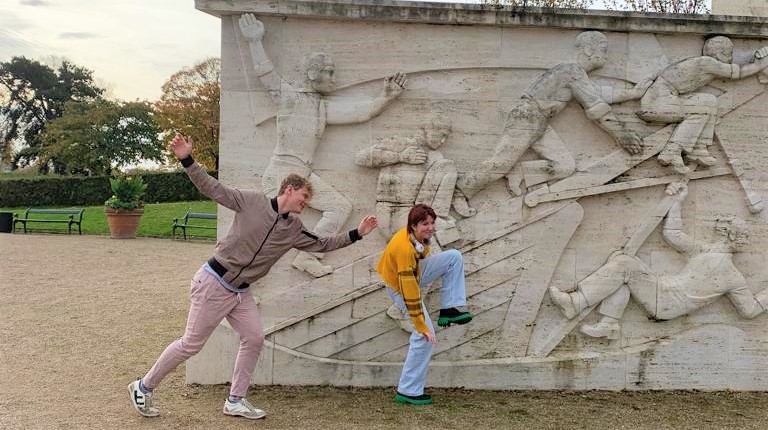 Nacel Open Door is proud to administer the Congress-Bundestag Youth Exchange (CBYX) Vocational Scholarship. To learn more about this great gap-year opportunity and how to apply for the 2023-24 program by the January 10, 2023, deadline, visit www.nacelopendoor.org/cbyx.