Congratulations Nacel Open Door Stars, Marie and Tim Shaner!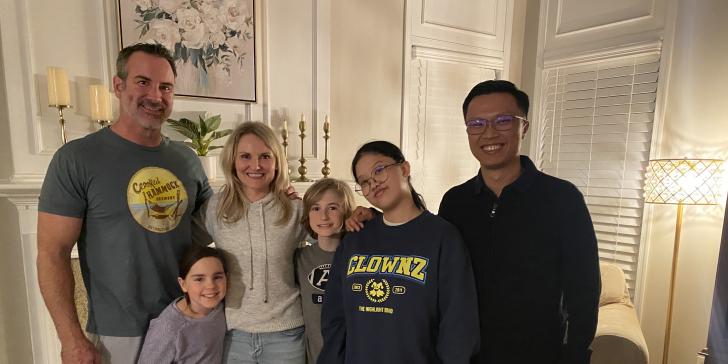 NOD is excited to introduce two of our amazing international student exchange host parents and Nacel Open Door Stars, Marie and Tim Shaner, of Pennsylvania! The Shaner family hosted their first Nacel Open Door student in the summer of 2022. They graciously opened their home to a short-term French student who quickly became the fifth child in their already busy household. She had a wonderful time during her three week stay and there were tears shed at the airport when it was time to depart.
Fast forward to this past January when we had a Vietnamese student whose arrival was delayed a semester. The Shaner family agreed to be a welcome family for a few short weeks until a permanent family could be found. Once again, within a short period of time our student found herself right at home. Tim and Marie soon agreed to host her for the remainder of the school year to prevent her from being disrupted mid-year. 
Marie shared the following about their family's experience hosting: "Our family is very fortunate to have the opportunity to be involved with Nacel Open Door. We have been matched with two curious, outgoing, bright young ladies who have really enriched our family by bringing a little of their culture and life experiences to us. We are very happy we got involved!"
The Shaner's children really enjoy spending time with our students, and they always show them a wonderful time with trips to New York City, Philadelphia, and other local attractions. We are very grateful for our all of our dedicated host families, like the Shaners, who open their hearts and homes to our students!
Thank you, Marie and Tim, for being NOD stars and standout U.S. Ambassadors!
Nacel Open Door is grateful to Marie, Tim, and all of our host families who make our international student exchanges work so well! To learn more about being a Host Family or Local Representative visit www.nacelopendoor.org/get-involved