Introducing Our New Website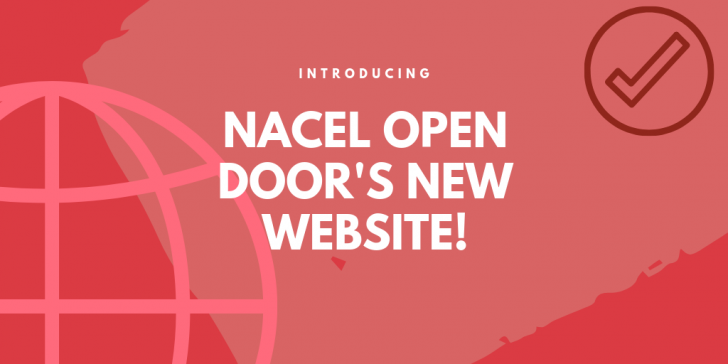 Over the past nine months our marketing team worked with website developer, maginative, to create an entirely new and unique website!
Some notable features
This new site is still located at the same web address, but is vastly different. Here are some of the most important changes for you to check out.
We have upgraded to a more modern feel of a website that looks cleaner and has a better user experience. Incorporating more pictures, quotes, and stories from our Nacel Open Door community, we have made the site more approachable and easier to see the experiences that we help create.
There are now two pathways for students and host families to go to and see relevant information for them. Dive into the vast information on these pages and you can learn so much about us.
Our new document center is accessible directly from our new site. Students, host families, and local representatives can now easily find relevant documents to them and print or fill them out right in the document center. This makes for a faster, and more enjoyable process to allow you to get back to making memories.
We have amazing adaptability with this new website. Making changes would not be any easier. This means that we can change and customize the site depending on what is happening at any given time. Look out for picture changes to highlight the holidays, and relevant information to you when you need it!
Since our blog is now incorporated on the site, you don't have to go anywhere to see new blog posts. Just go to the "About Us" tab and click on "News From Nacel" to see stories from our community, useful information, or interesting news from us!
The Creation of the New Website
The process of making the new website started a year ago in November, 2018. We spoke to several website developers and finally decided on maginative out of Boston to take the lead in this endeavor. The planning began in the spring when we voiced how we wanted the site to look and feel. We choose from a list of examples, looking for a theme that was approachable, clean, and experiential.
This past summer we worked with maginative to create the structure of the site deciding what would go where. They were also acquiring feedback from a sample of people that use the site so they can zero in on how to make the site user friendly to everyone we work with. After several more trial and errors to work out, we were able to jump into it adding pictures, information, quotes, forms, and many other pieces unique to Nacel Open Door. We got feedback again from many people in our network and maginative also did usability tests with people unfamiliar with our company to be sure it looked good and was easy to use.
Our last task this fall was to create and fill our new document center, providing students, host families, and employees an easy way to find and fill out need forms and information. After all that, we have now launched for you all to enjoy and use! We believe this is a huge upgrade to our company, our network, and our identity.  
Go check these and many other changes at nacelopendoor.org.