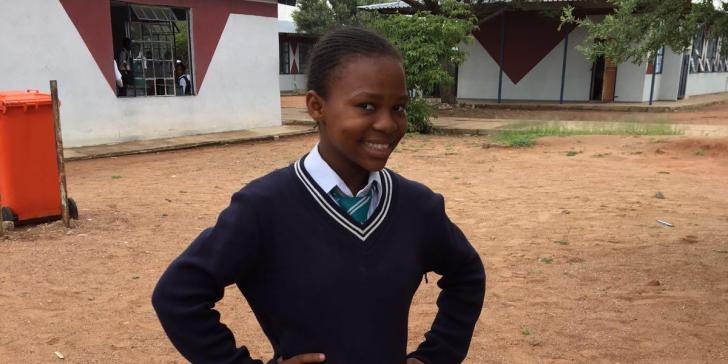 Note: This article appeared in our quarterly newsletter NOD Voices.
From NOD's partnership with Dream Academy in Oodi, Botswana, comes the story of Gofaone, 13, who just began a life-changing journey to an entirely different world.
As we wrote about in the previous edition of NOD Voices, development of the after-school STEM program with Dream Academy continues to progress. While our long-term goal is to establish our own school within the small community to serve local students in Botswana, Africa, we started by adopting this school.
From this program, Nacel Open Door and St. Paul American STEM School in Shanghai, China, decided to offer a full semester scholarship to one lucky student. The student selected was a young girl from Oodi named Gofaone (Gofa, with G pronounced like "H").
We talk a lot about how experiences with NOD changes lives, and improving Gofa's situation is one of the biggest changes to a life we have ever supported.
Not unlike most females in Botswana, when Gofa turned 8, she took over the household duties within her family home - cooking and cleaning for her family. Their needs were priority over her own, including her education. In addition, if there wasn't enough food to go around, Gofa was the one to go hungry. This course of life was forever changed upon her selection to receive this scholarship.
A tutor helped Gofa prepare for the rigorous studies of our school in Gezhi as soon as she was selected. She had to learn how to use a computer for the first time and about money management, as she set out to live on her own at boarding school. NOD's STEM Curriculum Advisor (K-8), Brian Degitz, met Gofaone to assess her readiness for Gezhi as well as provide additional instruction to ensure a smooth transition as she embarks on a journey from a small village in Africa to the largest city in China.
After getting to know Gofa, Degitz understood why she was chosen for this exciting opportunity.
"She is strong in math and science and has a good level head on her," Degitz said. "She is obviously bursting with excitement but also demonstrates a surprising level of control over herself, perhaps due to the role she has played in her family."
Our local sponsor, Dr. Onalenna Selolwane, a Dream Academy board member who serves on the United Nations Committee for Development Policy and the board of the United Nations Research Institute for Social Development, is determined to see long-term change in Gofa's life. She has arranged a scholarship at a private boarding school in Botswana upon Gofa's successful completion of her semester abroad.
We recently received an update from China, and Gofa appears to be settling in quite nicely. The picture below is of Gofa and a few of her classmates on a field trip to a nearby "pick your own" strawberry farm in Shanghai.
We plan to follow Gofaone's incredible journey closely and wish her all the success in the world!