NOD Spotlight: Padre Adolfo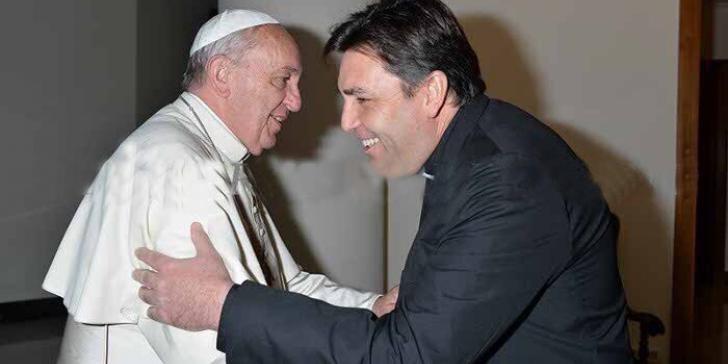 Note: This article recently appeared in our newsletter "NOD Voices"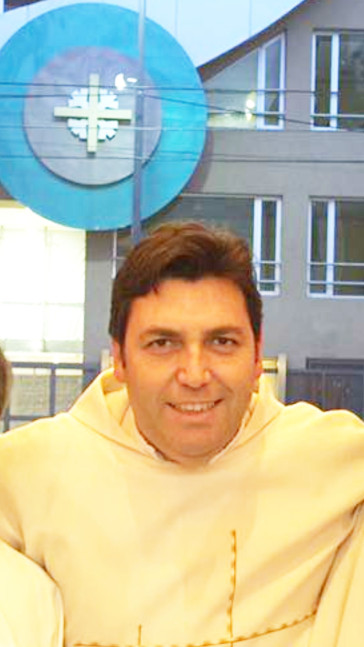 He runs a church and school in Buenos Aires, Argentina. He posts selfies from mass to his Twitter account. He was once an attorney. He was ordained a priest by the man now known as Pope Francis. And yet he says one of the most important experiences of his life was an exchange program through Open Door (now Nacel Open Door) back in 1987.
Meet Father Adolfo Granillo Ocampo, 47, or simply Padre Adolfo, a priest and headmaster at Nuestra Señora de las Nieves (Our Lady of the Snows)parish in Argentina's capital city. After 'rediscovering' NOD last year, Padre Adolfo started sending groups on Short Term Program trips to the United States, and currently 39 of his students are shadowing American students at Bethlehem Academy and living with Host Families in Faribault, Minnesota, for the next few weeks.
But Padre Adolfo's experience with international education came long before he began ushering teenagers around America. Prior to his own time on exchange in the United States as a 17-year-old from La Rioja, Argentina, Padre Adolfo's family hosted an American student named Trevor from Maryland the previous year.
Trevor had a huge impact on the Ocampo family, becoming a brother to Padre Adolfo and his two younger sisters, and another son to his parents. The two remain close friends even to this day, with Padre Adolfo serving as the best man at Trevor's wedding, and Trevor attending Adolfo's ordination to the priesthood.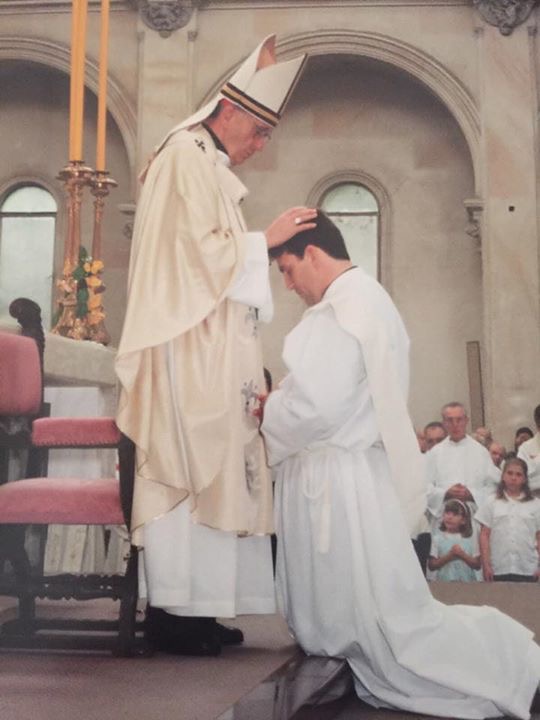 Given his family's experience hosting Trevor, Adolfo knew he wanted to have a similar adventure learning and sharing a new culture abroad, so in the winter of 1987 he arrived in Broadalbin, New York, to live on a small family farm and go to a small school.
"The best memories that I have are from living with the (Host Family), making new friends, and studying like an American student," Padre Adolfo said. "During the exchange program I discovered my principles and character ... I really enjoyed learning about myself, my Host Family, and American culture. I really grew up, learned to communicate better, and made great friends. I learned great things that now help me every day, and it was one of the most important experiences of my life."
Though the name has changed since his days as an international student, Padre Adolfo said that he chooses NOD for his students' exchange programs because of the positive experiences he had with the organization back in 1987, and the continued dedication to students he sees today.
Padre Adolfo said international education is crucial in today's globalized world, where it's not only a necessity to speak another language, but also to get involved with other people from different cultures and with unique interests. He also said living with an American Host Family will open his students' minds and best prepare them for a life of understanding and mutual respect.
"(Student exchange) changed my life, gave me an open mind, and helped me understand that there is a great world to discover," Padre Adolfo said. "It's made my life better. It's helped me in my life decisions, choosing to be an attorney and a priest, because the experience I had in my exchange program was really deep."
Throughout Padre Adolfo's many experiences with student exchange, he has recognized the benefits NOD's programs offer, and he is now giving his students a chance to discover a different way of life, and hopefully gain some new perspectives on not only American culture, but their own Argentinian culture.