Stories in the Field: North Carolina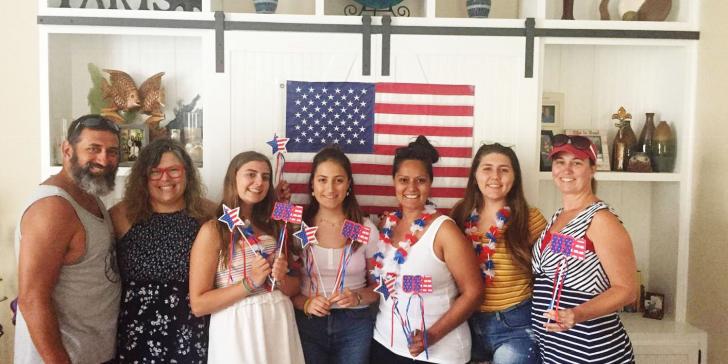 Melissa has worked with Nacel Open Door as both a host mom and a local representative in North Carolina. Her work has helped many host families and impacted students in great ways.
Below, she shares some tips and first-hand experience about all the rewards that come from these roles!
What is the best part of being a host parent?
My husband and I enjoy the "youthfulness" that the students bring into our home.  It is their eagerness to learn about our culture and the many laughs we have together over learning new words or how something works that just add to the whole experience.  For example, our Brazilian student had difficulty saying aluminum foil and many times for fun we say it her way just to remember her.
What made you want to be a local rep?
I was a foreign exchange student myself many years ago and really enjoyed my experience and I thought another way to be involved besides just hosting students would be to help other students by finding great families to build lasting relationships, like we have done. 
What is it like being a local rep?
It is wonderful because I get to have relationships with all the students as well as meet wonderful new families.  I can share my past experiences with the new families about hosting and I can alleviate any concerns they may have while they are hosting.  I also like to host monthly events with the students and families so that I can see them interact as a group.
How do you schedule your time working as a local rep?
Working as a local representative is time consuming especially before the school year begins, there is a lot of correspondence that goes into finding new families and interaction with schools.  This is where I spend a large portion of time.  Luckily, much of the work can be done remotely, so I can be mobile.  Once they students arrive, I meet with the students at least monthly in addition to the monthly required report.  As, I said I like to schedule monthly events usually tied into the holiday or theme of that month. 
What is it like meeting with the kids?
The students are wonderful.  In my experience the students are respectful, display positive attitudes towards myself and their host families.  They also feel comfortable discuss any concerns or questions they have had during their time here.  Again, it is really enjoyable when I get all of the students together and they share what has been happening in their homes with their host families and friends. 
What would you tell someone who was thinking about being a local rep?
I would tell them it is a wonderful experience if you are passionate about cultural experiences and want to provide lasting relationships to others.  It is an excellent opportunity to feel like you are traveling and learning about others while still living at home.  It is however a lot of work and sometimes disappointing when you can't encourage enough families to host or a school district won't accept a student, so you have to be prepared for some challenges.
What would you tell someone thinking about being a host parent?
This is easy..I would tell them to open their heart and their home.  Hosting has been one of the most rewarding experiences my husband and I have had.  We had our 1st exchange student 14 years ago, in 2016 she got married and we attended her wedding in Brazil.  She asked us to be in the wedding and give a speech at the reception. It was a beautiful moment that we will cherish.  We have had friends who have decided to host based on seeing the amazing relationships we built with students, that was in our minds a huge compliment!
How has working with Nacel Open Door changed your world view?
 I think prior to working with Nacel Open Door, I had a diverse world view, however, recently at a conference held this year, I saw how some students, specifically how male boys from Kyrgyzstan are more difficult to place.  After the presentation, I was moved by the compassion of a local rep to help ensure that these students and those similar to them receive placements by helping to remove some of the unknowns surrounding their countries and cultures. 
Want more information on becoming a host family or local rep? Reach out to us!