Covid-19: In this Together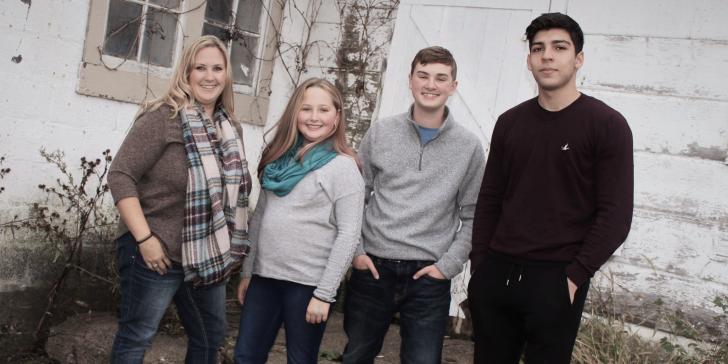 In This Together.
With all the steady flow of news and information regarding COVID-19, it is difficult to keep up. As a single mom of 9th and 6th graders, I find myself in the same unchartered waters as you. As an employee of Nacel Open Door (NOD), I have a unique bird's eye view of the various perspectives and policies from communities around the globe and across the country.
I find that this unprecedented situation leaves us with lots of questions and ambiguity, but knowing that we are in this together brings me comfort. Like many of you, I have been a host mother and am familiar with the added joy and complexity this brings to family dynamics. While no two situations are the same, I thought by starting this blog series Covid-19: In this Together, I can share what I have found to be helpful and encourage you to share your tips and advice. I hope that we will find inspiration and support in our NOD community, as well!
As of today, Minnesota joins many states in the U.S. by ordering shelter in place, distance learning, etc. While some of us are dealing with different textures to a similar story, it is what is similar that I want to talk about first.
1. Our lives have been turned upside down
2. We are trying to find new routines, in all of this uncertainty
3. The people in our home are reacting to and adjusting in their own unique way.
Over the past two weeks while my children have been home (an extended Spring Break, thank you COVID-19), I have been establishing and readjusting our new schedule in the hopes of being safe, productive, educational, and sane. Here are some lessons I've either learned the hard way or were so graciously shared with me.

Get Creative and Seek Inspiration
There are a ton of great resources out there that I have found. Reviewing these with my children and making them a schedule with helpful links provides them the ability to explore and have fun independently while I tackle other needs. Here is a list we've been drawing from:
I would love to hear what you have found for your kids have checked out! :) Share them with me through a picture of your kids on Instagram at www.instagram.com/nacelopendoor #NODdiscover

Working from Home
Being a working mom, while also being the caregiver is a challenge most of us are familiar with. Now add working from home with children at home, regardless whether they are toddlers or school age, now that's a whole new ball game! A few things that we have been doing in our house that might also work for you is Planning and Prioritizing, communicating, keeping a schedule, and making time to play!
Planning and Prioritizing. In our house, we do this the night before. I share with my kids when I have meetings schedule so they know when I can't be interrupted. (Yes, I know my kids are older and more capable of this… but even when my children were little, I would tell them when I was on the phone they needed to let me be. Often, my older son, would step in and help his little sister during those times when she needed something, it's called team work!) Some ideas my friends have shared is if possible, align your children's schedules with your own so that they are occupied while you are on conference calls, etc.  
Remember, exercise patience as our educational system and workforce has largely shifted to a virtual environment. Technology platforms are doing their best, but are being stretched as well as internet services are being pushed to maximum security.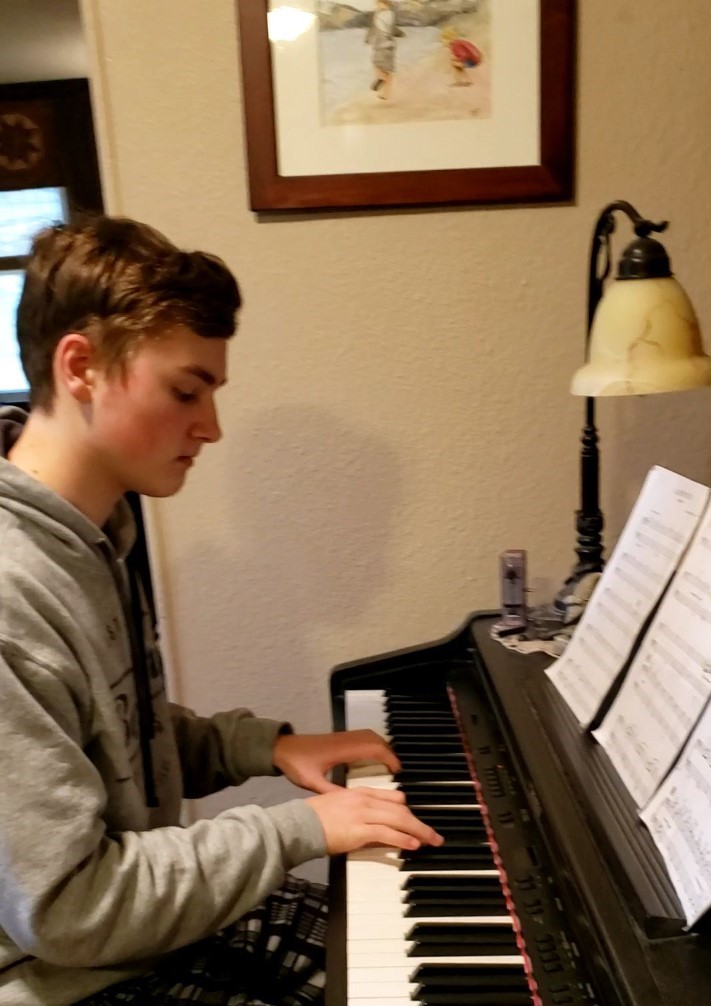 Communicate. Just like you would in the office with your team, talk with your kids. Share with them what your goals are for the day and help them establish what they need to get done for their day to be successful. If they have their own projects and assignments to work on, then you will have more uninterrupted time to get you tasks accomplished.
Keep a Schedule. Something that is important to me during this unprecedented "Shelter-in-place" period is keeping structure in our day. I don't know about you, but I am girl who needs structure in her day. So to keep a sense of normalcy for myself and my children, I have continued to get up at rough the same time as I would if it were any other school/work day and I were going to drop the kids off at their schools and commute to the office. I do let the kids sleep in a little later, but still have them getting up at 9 each morning. Everyone showers and gets dressed – no "all-day jammie parties" here, Lol! They each have a daily checklist of expectations, such as reading for an hour and practicing their respective instruments (both play the piano, Caleb also plays the Sax and Jaiden the trumpet). Lunch is still around noon, and chores like dishes and making their beds all still apply. This is what works for us… for now.
What are you doing at your home to keep things running as smoothly as can be expected? Share your pictures and stories of how you spend your day with me on Facebook at www.facebook.com/NacelOpenDoorUSA #NODdiscover.
Make Time to Play. My day ends around 4:30 or so, which still leaves us plenty of time to get outside for some fresh air. It's starting to warm up here in Minnesota and it feels great to be able to get outside in the afternoons when it's still 45-50 degrees out. One day my daughter and I sat on our sidewalk out front of our and drew bright colorful chalk drawings. Another day all three of us went for a short 5 mile bike ride. Yesterday we simply picked up sticks around our yard and filled the fire pit. Now we're ready for a spring bonfire later this weekend! Honestly, it doesn't matter what you do, just do something together. Connect, have fun, and enjoy this time together!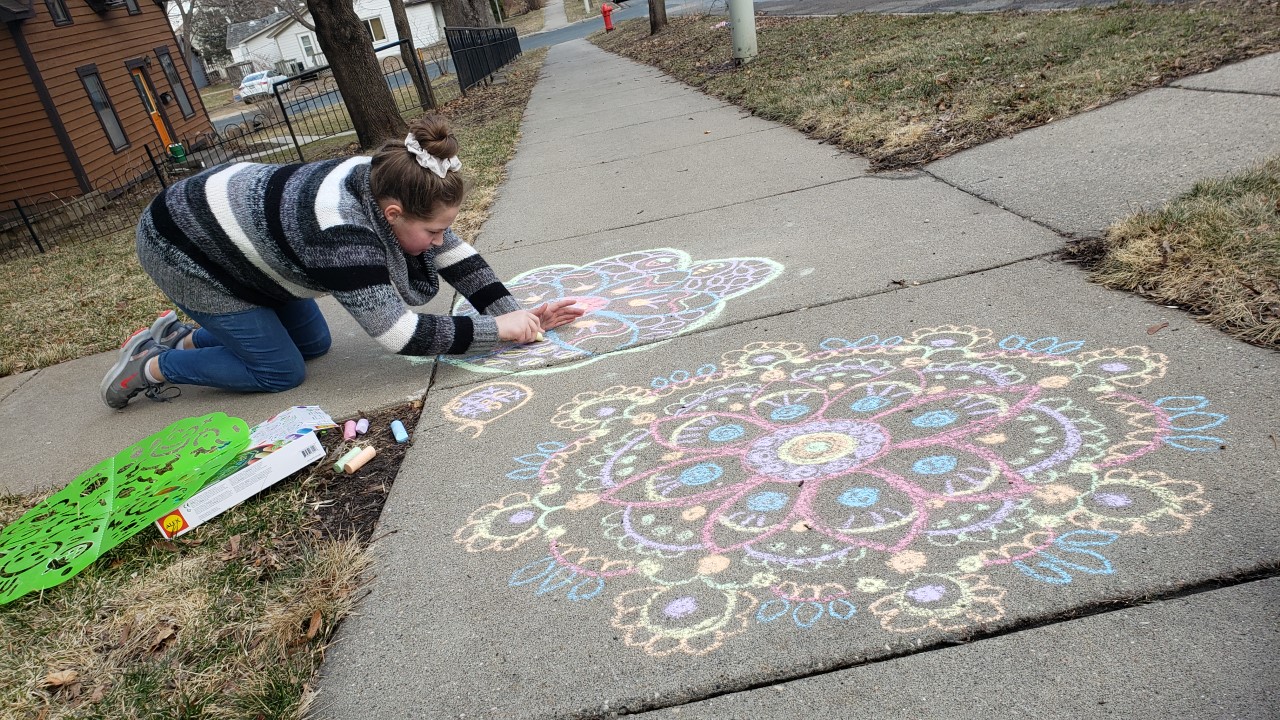 Just Crazy!
Anyone you talk to, friends, family, or strangers you pass while keeping 6 feet of distance between yourselves, have the same reaction: "THIS IS JUST CRAZY!" As the Director of Marketing and Communications, I still have a job to do. I have kids that I still need to keep things as normal as possible for so they don't worry…  and yet this is just crazy! Nowhere in anyone's mind can we point at a single global incident that has brought us all together and at the same time forced us to keep our distance – this is just crazy! But we will get through it together…
Please know that at Nacel Open Door, we are continually monitoring the news from the Center of Diseases Control and Prevention (CDC), the World Health Organization (WHO), and our governing boards like the U.S. Department of State (DOS) and the Council on Standards for International Educational Travel (CSIET), and we are following their guidelines to navigate our way through this crazy time. We will continue to share with you information as we know it, and you can visit our website at any time for the latest updates. We have added a special section just for updates on the Coronavirus (COVID-19).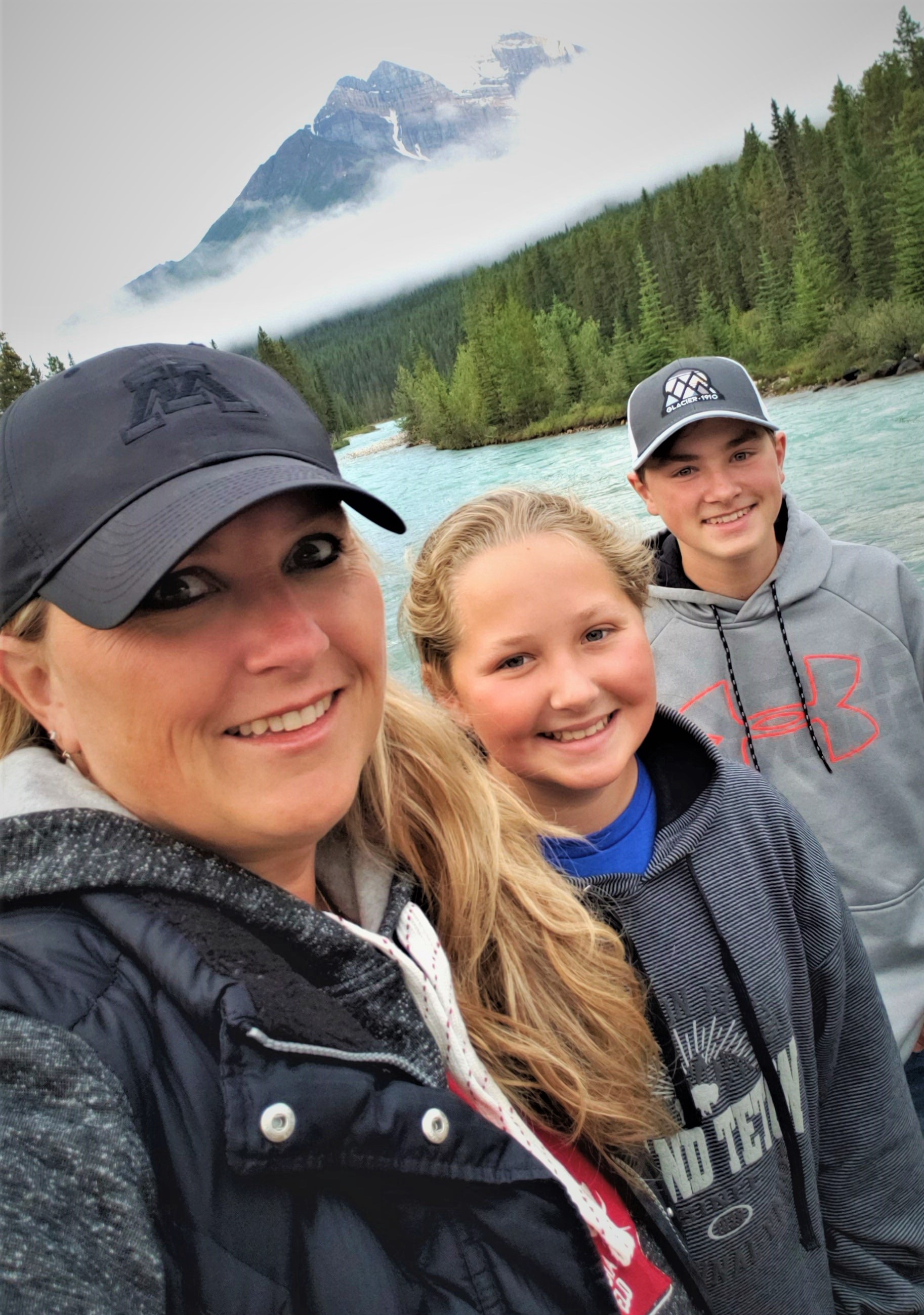 Shannon Christle has been the Director of Marketing and Communications for Nacel Open Door since 2012.
She is the mother of a 15 and 12 year old and was host mom to a 16 year old from Turkey in the Fall of 2019.
She can be reached at [email protected].